When: Saturday 23rd of March 2019 - 11:00:00
End: Sunday 24th of March 2019 - 16:30:00
Duration: 1 days 05 hours 30 minutes
Meeting Point: LOT 12183 Swimming Pool Rd, Pemberton, WA, 6260, Australia
Venue: Pemberton MTB Park
Tel: 0409991322
Email: tonymtb@bigpond.com
Details:
State XCO rounds 1 and 2 = Sat 23 and Sun 24 March 2019
Proudly presented by
Entries are now open and close on Thursday 21st March
Entry Link = https://online.mtba.asn.au/ERegister.aspx?E=6390
The entry fee includes a one off $5.00 number plate for the whole 2019 XCO series.
You can race one day or both days.
Entry fees are $75.00 per adult for 2 days including a number plate ($35 a day)
A one-day entry is $45 per adult including a number plate.
U15 + U17 Junior entries are $55.00 for 2 days including a number plate ($25 a day).
A one-day entry for U15 and U17's is $35 including a number plate
Under 9 and Under 13 riders are $10 per day including a number plate from RnR,
There are NO entries on the day (you must enter online).
You need an MTBA licence to race, if you don't already have one, a free 8-week trial can be set up on the MTBA website…… or you will be charged for a day licence.
Separate points and prize money for both days.
A different race course will be used for each day with B-Lines where required.
Both courses will be challenging but suit all abilities and NOT be full national level.
MTBA national cup Tier 2 points allocated for both days.
Accommodation options:
Pemberton Visitors centre - http://www.pembertonvisitor.com.au/
LAPS = The laps below are an educated guess and are subject to change depending on fastest lap time and weather conditions.
80% Rule = The 80% rule will NOT be enforced (that is riders will NOT be removed from course before they are lapped)
Lapped Rule = XCO racing is based on the winner's time, NOT laps. Laps are calculated to get close to the winner's guideline time. If you are lapped by the winner of your category during the race, this means you will have done more than the winners time and your race will finish when you cross the line. After the winner has crossed the line that is. You will still be deemed a finisher, just with a lap less. 😊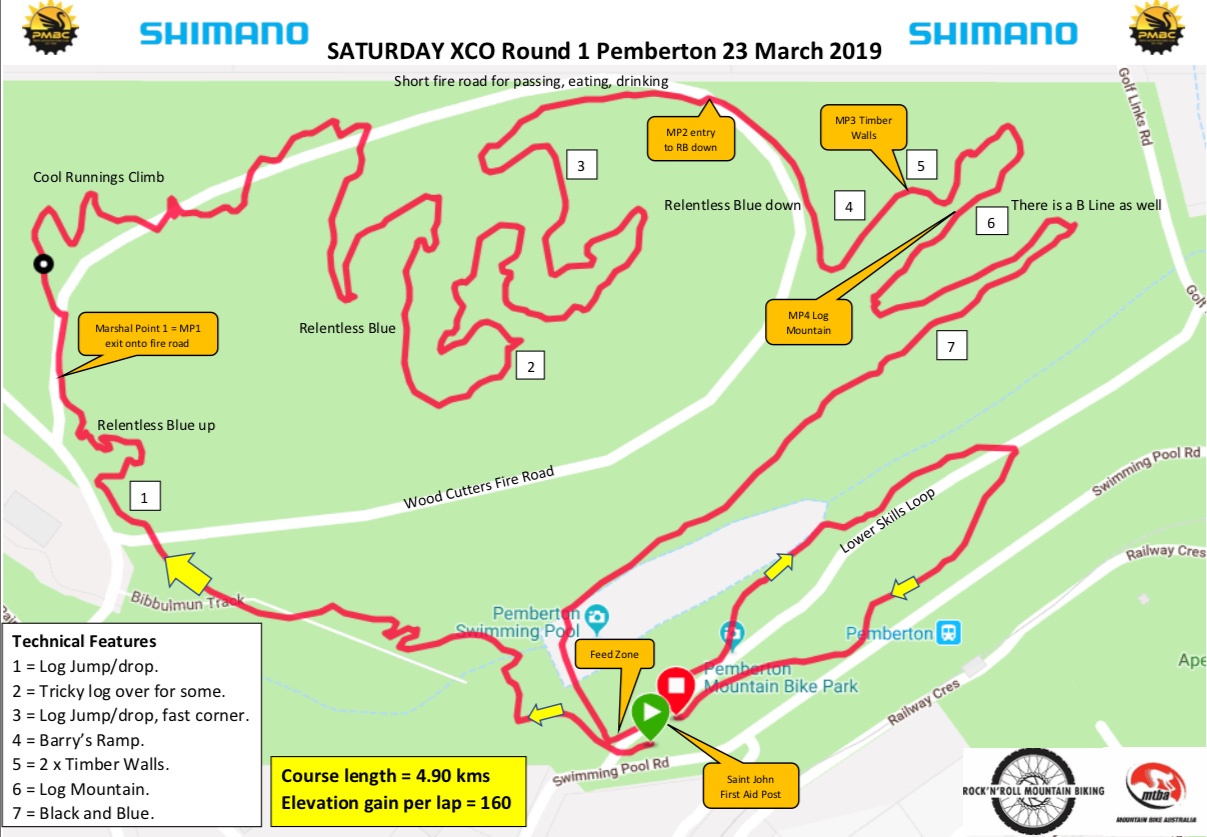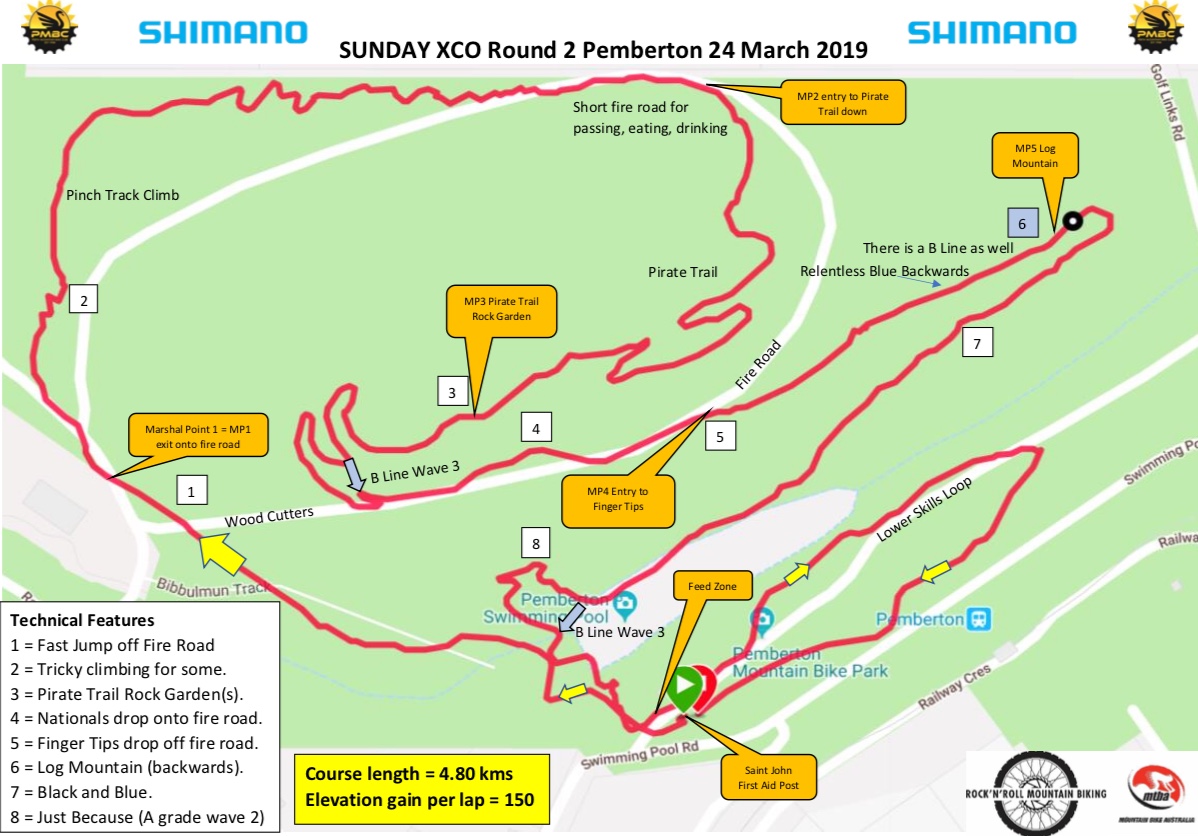 SATURDAY = Category

Start time

Race time

LAPS

Estimated

WAVE 1

1 hour 30 min total

On course

Under 9

11 am

20 minutes

20

Under 13

11.30 am

30 minutes

20

Presentations with RnR

WAVE 2

2 hours total

Men's A grade

12.30 pm

1.15 – 1.30

6

75

Men's B grade

12.31 pm

1:15 – 1:30

5

A Grade Women

12.31 pm

1.15 – 1.30

5

Under 15 Boys

12.32 pm

45 min - 1 hour

2

Under 17 Boys

12.32 pm

45 min - 1 hour

3

Under 17 Girls

12.32 pm

45 min – 1 Hour

3

WAVE 3

1 hour 30 min total

Men's C grade

2.30 pm

1:15 – 1:30

4

95

Womens B Grade

2.30 pm

1:00 – 1:15

3

Men's D grade

2.31 pm

1:00 – 1:15

3

Men's E grade

2.32 pm

1:00 – 1:15

3

2.33 pm

1:00 – 1:15

2

Under 15 Women

2.33 pm

45 min – 1 Hour

2

Presentations for ALL

With dinner function

6:30 – 7:00 pm

Jarrah Jacks

210
SUNDAY = Category

Start time

Race time

LAPS

Estimated

WAVE 1

1 hour 30 min total

On course

Under 9

8 am

20 minutes

20

Under 13

8.30 am

30 minutes

20

Presentations with RnR

WAVE 2

2 hours total

Men's A grade

9.30 am

1.15 – 1.30

6

75

Men's B grade

9.31 am

1:15 – 1:30

5

A Grade Women

9.31 am

1.15 – 1.30

5

Under 15 Boys

9.32 am

45 min - 1 hour

2

Under 17 Boys

9.32am

45 min - 1 hour

3

Under 17 Girls

9.32 am

45 min – 1 hour

3

WAVE 3

1 hour 30 min total

Men's C grade

11.30 am

1:15 – 1:30

4

95

Womens B grade

11.30 am

1:00 – 1:15

3

Men's D grade

11.31 am

1:00 – 1:15

3

Men's E grade

11.32 am

1:00 – 1:15

3

C Grade Women

11.33 am

1:00 – 1:15

2

Under 15 Women

11.33 am

45 min – 1 hour

2

Presentations for ALL categories

1 pm

Swimming pool

210